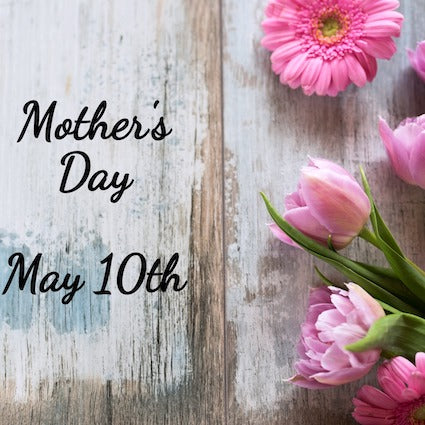 Top 10 Staff Picks for Mother's Day
Mother's Day is just around the corner, it's time to make a plan!
This year, most of us won't be able to share a meal with our Mothers, or give them an in-person hug.  We'll save that for when it's safe.  
You're still able to choose a thoughtful gift, it just requires a bit more of a plan to coordinate it.  There are several easy options for shopping our store:
Order online

- if you would like to pickup your order, select "Curb side pickup" at checkout.  We'll contact you to schedule a time that is convenient for you.  We also ship across Canada and right here in Calgary.  Don't see the product you want?  Call us, we'll add it or process a phone order.
Order by phone - 403.243.4444 

Window shop

- we've created some baskets for Mom and set them in our window.  We've also moved some popular gifts for Mom and promo items to the window.  See something you like?  It's easy.  Call us between 10am and 2pm (M-Sat) with credit card details and we'll quickly process and set it outside for you.
Need ideas?  Call us to discuss.  Tell us a little bit about your Mom and I'm sure we can brainstorm some ideas to suit your budget.
From now until Mother's Day we are offering

free gift wrap

!
Here are some staff favourites for Mother's Day
Maison Berger Lamps - from $58 to $80
These beautiful lamps are used to purify the air in our homes.  On promo until Mother's Day, buy a lamp and receive a 500ml fuel of your choice - free. 
 If ordering online, put your fuel selection in the notes section   at  checkout - or call us for some advice on the scents.  Sorry - due to the flammable nature of the fuel, no shipping on     this item.
Staub 5.2L Cast Iron Cocotte (cherry colour)        
In addition to soups, stews, roasts, and curries, cocottes are a great way to make bread.  This vendor promo is regularly sold at $430 but now on promo at $299   https://britanniahome.ca/products/castironcocotteround?variant=914459852819
Lothantique Hand Soap and Hand Lotion - $25.95(soap)/ $42.95(lotion)
These lovely products are made in France and a real treat for the hands.  The packaging is elegant and the scents are lovely but fairly subtle.  No fake smells here.  A customer favourite.
https://britanniahome.ca/search?type=product&q=lothantique
Gurgle Pot - $44.95
These iconic fish jugs continue to be a customer favourite. 
They make a glug, glug sound when pouring which makes for a great conversation piece. They look great on a shelf and can double as a flower vase. 
https://britanniahome.ca/products/largegurglepot?variant=7180750716988
Birdbath w/Stand
This lovely birdbath would be a beautiful addition to any garden.  https://britanniahome.ca/products/restingdragonflybirdbathwstand-16
Bodum Coffee Press - $72.95 & Milk Frother - $26.95
Let Mom make her own tasty coffee creation at home.
https://britanniahome.ca/products/eileen8cupfrenchpress?variant=31900712861756
https://britanniahome.ca/search?type=product&q=frother
Moscow Mule Mugs - $23.95
Many are enjoying a few more cocktails right now and summer is just around the
corner.  These mugs are a must have for an authentic Moscow Mule cocktail.  https://britanniahome.ca/search?type=product&q=moscow
Add a muddler  https://britanniahome.ca/search?type=product&q=muddler
Le Creuset Cast Iron Flower Cocotte
These special edition cocottes bring a little joy and are great for both cooking and serving.  They will also make a lovely showpiece in the kitchen.  Extremely limited quantities.  Available in Soleil, Caribbean and Provence.
https://britanniahome.ca/products/lecreusetclassic2lflowercocotte
Le Creuset Ceramic Mini Cocottes with flower handles - Set of 3 - $99/set
  Just arrived and only available for a limited time, these mini cocottes are     so versatile.  Great for dips, olives, nuts as well as hot   dishes such as lava cakes, or individual potato gratin.  These will sell out quickly!   
https://britanniahome.ca/products/lecreusetclassic2lflowercocotte
 Wrendale Mugs - $15.99  
This is our number one for online sales.  With so many cute animals to choose from, you're sure to find the perfect one for your Mom.
https://britanniahome.ca/collections/wrendale-by-royal-worchester 
Gift Cards
Let your Mom pick out her own gift.  Available as a physical card for pickup and use in store (call us to order), or digital card can be ordered online and used for online shopping.
https://britanniahome.ca/products/gift-card?variant=31882822647868