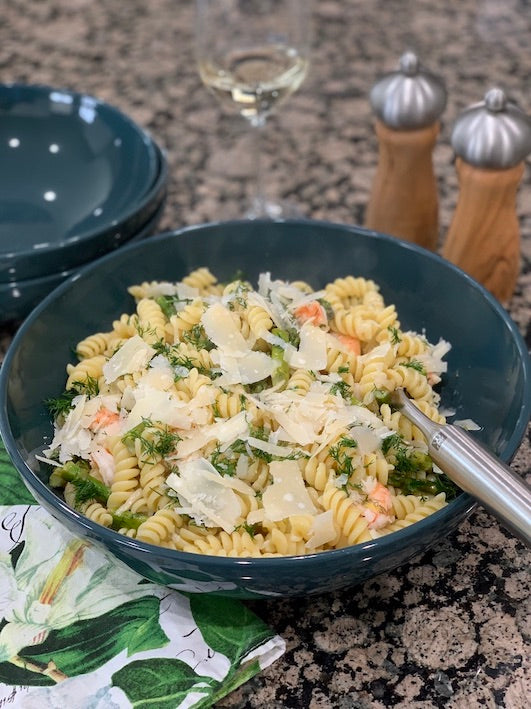 Quick & Easy Spring Pasta
I'm seeing so many people trying out new recipes.  I'm loving seeing all of your photos and reading about your experiences on social media.  There is also a group of people that are busier than they ever were; home schooling children, working in essential services or trying to keep their businesses afloat.  This recipe is super quick to pull together and makes a great weeknight meal.
This recipe isn't fussy.  I don't measure, I just eyeball it.
Ingredients
1 package of pasta of your choice
1/4 cup of butter
1/4 cup of olive oil
3/4 cup of chicken broth
Zest and juice of 1 lemon
Asparagus (about 3/4 of a bunch)
Shrimp (Cooked or uncooked, peeled, tail off.  About 2 cups worth)
1 cup grated parmesan
Fresh dill (about 1 TBSP - can also use freeze dried)
Pepper
1. Cook pasta as per package instructions in a large pot of salted boiling water
2. In a large saute pan, melt butter with olive oil over medium high heat until it begins to simmer.  Add chicken broth, reduce heat and simmer until it reduces, 5 to 6 minutes.  Mixture should reduce by about 30% and be slightly thicker. 
Add asparagus and shrimp and cook for a few minutes until the asparagus is cooked to your liking.  (If you are using uncooked shrimp, put this in the pan first and cook for a minute or two before adding the asparagus).  When asparagus and shrimp are cooked add lemon zest and juice and fresh dill.  Set aside.
3.  When pasta is cooked, drain and return to pot.  Toss with 3/4 cup of the parmesan.  Add to sauce mixture.  Toss and top with rest of parmesan.
Enjoy!