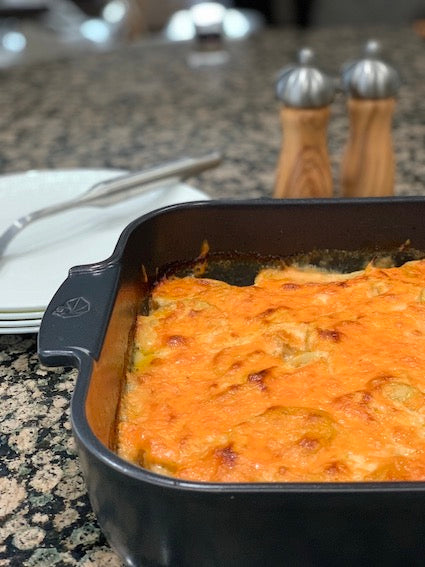 Cheesy Scalloped Potatoes
Scalloped potatoes make a great side dish for Easter dinner.  Follow along with Natalie on YouTube as she makes her scalloped potato recipe.
https://www.youtube.com/watch?v=71iPol6_BSA
Cheesy Scalloped Potatoes
Ingredients:

• 6 or 7 medium sized potatoes (Yukon Gold works well)
• 1 medium onion
• ¼ cup butter
• ¼ cup flour
• 1 tsp salt
• ¼ tsp pepper
• ½ tsp thyme (optional)
• 2 ½ cup milk
• 1 cup + 2 cups shredded cheddar cheese (optional)

Directions:

1. Preheat oven to 350F.

2. Slice the potatoes ¼" to 1/3" thick. Thinly slice the onion. Set aside.

3. Make the sauce: Over medium heat, melt the butter. Add the flour, whisking constantly and cook for one minute. It will be paste-like in texture. Slowly stir in the milk while whisking constantly until it's a smooth consistency. Add the salt, pepper and thyme and continue whisking until the mixture becomes fairly thick, about 4 or 5 minutes. Remove from heat and add 1 cup of shredded cheddar and stir until melted.

4. In a greased 9" x 13" pan, begin layering one third of the potatoes, one third of the onions and one third of the sauce. Repeat 2 more times. Cover the top with the remaining 2 cups of cheese.

5. Cover with foil and cook for 1 hour. Test the doneness of the potatoes. Depending on the thickness and type of potato used, it may require a few more minutes in the oven.

6. When cooked through, remove the foil and broil for a few minutes until cheese is bubbling. Watch it carefully to avoid burning.