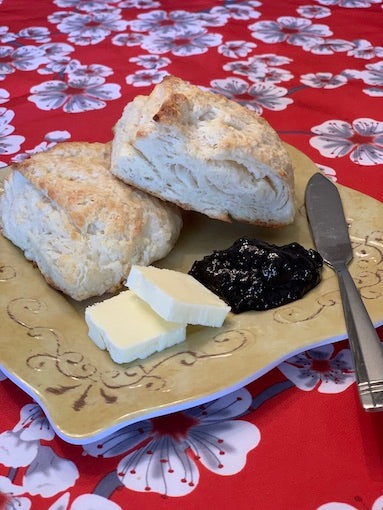 Easy Buttermilk Biscuits
I chose this biscuit recipe for one main reason: it's super easy! I just thought that with all the chaos in life, some good old fashioned biscuits are a nice way to add a hot delicious bonus to any meal - a breakfast treat, a bowl of soup, chilli, or your basic meat and potatoes. For some extra fun in the kitchen, get the kids to help out and let them cut the biscuit dough into a variety of fun shapes! - Natalie

Ingredients:

• 6 tbsp Butter
• 2 cups of all purpose flour
• 1 tbsp Sugar
• ¼ tsp baking soda
• 1 tbsp baking powder
• 1 tsp salt
• 1 cup buttermilk (or 1 cup milk +1 tbsp vinegar)

Directions:
(Makes 8 biscuits)

1. Preheat oven to 450F degrees.

2. Grate butter using a cheese grater and place in freezer to keep it cold while the other ingredients are being prepared.

3. Mix flour, sugar, baking soda, baking powder and salt together. Add grated butter and buttermilk and mix until it just comes together. Place onto floured surface and gently knead by hand until everything is incorporated. Don't over knead.

4. Pat into a rectangle and fold in half. Gently press down and repeat 3 or 4 times. This helps create nice flaky layers. Press down into square until about 1 inch thick. Cut with biscuit cutter or dough scraper into 8 evenly sized pieces.

5. Place biscuits on a baking sheet lined with parchment paper and bake at 450F for 12 to 15 minutes until lightly browned.
Watch the instructional video on YouTube