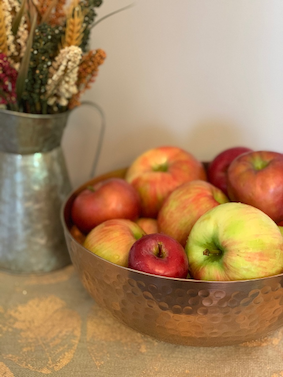 It's Apple Season!
As the weather begins to turn colder, and children go back to school it always seems a good time to reset and refocus.  Although I begrudge the end of summer, getting back to routine is generally welcome.  A bit of meal planning helps us get back on track and at our house we shift from BBQ's and lighter fare to comfort foods.
 This time of year also coincides with the apple harvest.  There are so many ways to use up apples, in pies, galettes, sauces, butters, muffins and loafs.  When I was growing up, my mother made apple sauce every September and I've been carrying on the tradition with my own family.  The perfect apple sauce means something different for everyone.  Some like a pale, pureed version (think Mott's lunch size), others something more hearty and chunky.  I'm in the latter group and prefer a version that still has chunks and has been cooked down with a bit of brown sugar and lots of cinnamon.
 If you're new to making applesauce, there are recipes out there but much depends on how sweet and juicy your apples are.  I'd encourage you to wing it, tasting and adjusting as you go.
My Homemade Applesauce Recipe
My version begins with peeling and chopping the apples.  I use a blend of honey crisp and MacIntosh apples.  To the pot I add just a little bit of water so that the bottom of the pot is covered (about 1/3 to ½ cup of water).  We're really just trying to get the apples started to cook down.  Once it gets simmering I stir occasionally and add a little brown sugar and cinnamon.
After about half the apples are cooked down, I begin mashing a little with a potato masher to help the final chunks along.  Do a taste test.  Does it need more sugar?  Cinnamon?  A smidge more water?  Add as necessary and continue to cook down (and mashing if necessary) until desired consistency.  If you like it quite smooth, there's no reason you couldn't put it in the blender at this point.
We eat applesauce on its own, over ice cream or with Greek yogurt and granola in the morning.  It freezes well so don't be shy about making a big batch to enjoy over the coming months.