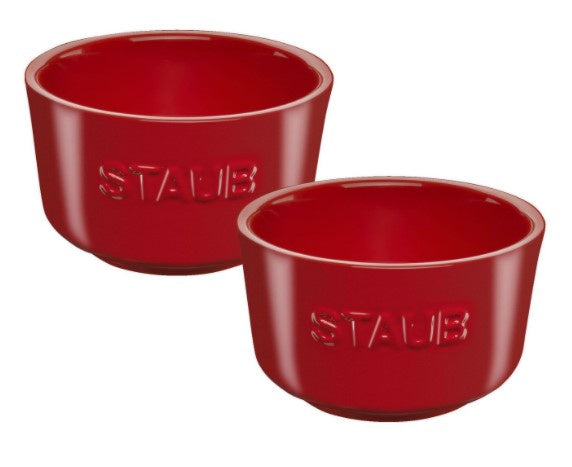 We have run out of stock for this item.
This set of two ceramic ramekins can be used to prepare and serve a variety of dishes. For example, make some delicious Oefs en Cocotte (or rather, Oefs en Ramekin) with pumpkin to impress your guests for breakfast or brunch. The individual portions make it easy to adapt the recipe to everybody's preferences. Add some bacon for those who love it or leave out the parsley in the portion for a fussy child, and everyone will agree that this is the best version they have ever tasted.
Ramekin dishes are also ideal to make big blueberry muffins and serve them directly from the oven to the table. With their attractive red colour, the ramekins are a lively addition to the table. The high-quality ceramic material ensures optimal heat distribution, while the glazing makes the dish easy to clean and very durable. The ramekins can be stacked for compact storage and will serve multiple purposes around the kitchen and dining room for a long time.
Red coloured glazing
  High-quality ceramic for optimal heat distribution
Easy to clean, dishwasher-safe
Shockproof and scratch resistant
Can be used to bake, hold and serve ingredients
Perfect for preparing individual portions of oven recipes
SPECIFICATIONS
Desiged by Staub in France, manufactured in China
Substance: Ceramic
Oven-safe: Yes
Microwave-safe: Yes
Freezer-safe: Yes