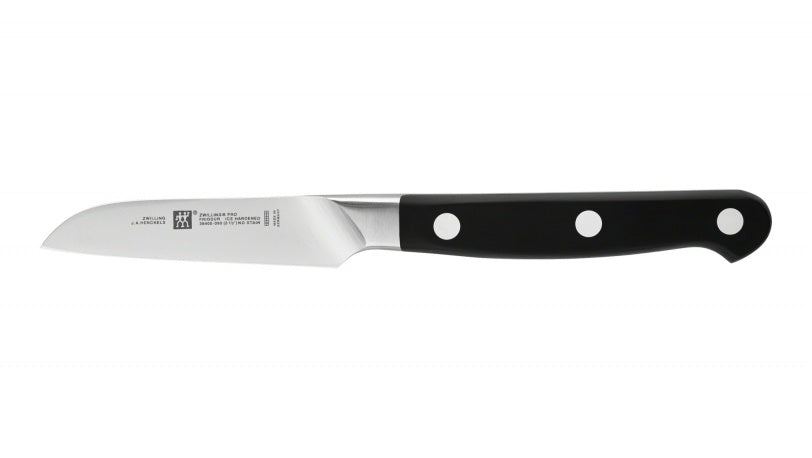 We have run out of stock for this item.
The vegetable knife from the ZWILLING® Pro range is an excellent choice for peeling, cutting or garnishing vegetables. With a straight, continuous cutting edge, it is ideal for cutting techniques typically used when preparing vegetables. Slice tomatoes or cut carrots into thin Julienne strips effortlessly with this knife. The sharp blade achieves a clean cut even on soft vegetables. Harder varieties can be chopped effortlessly. You can also cut vegetables into decorative garnishes, like cucumber fans, radish flowers or tomato baskets.

The knife stands out on account of its precision, stability and corrosion resistance, due to the use of ZWILLING special formula steel. The knives are precision-forged from a single piece of steel and ice-hardened to guarantee long-lasting sharpness. The curved transition from blade to handle is seamless and the knife is comfortable to hold. The handle made of non-slip, rigid plastic is fixed to the continuous tang with three rivets. The ZWILLING vegetable knife helps you to prepare delicious vegetable dishes, salads and garnishes quickly and with little effort.
FRIODUR® ice-hardened blade for exceptional durability of the cutting edge and corrosion resistance.
Stainless special formula steel, ZWILLING specially fused materials: These knives are robust, corrosion-resistant and flexible at the same time.
SIGMAFORGE® knife – one-piece precision forging
V-edge: The two-level V-edge-grinding also provides for lasting sharpness and offers long-lasting highly precise cutting performance.
Ergonomic plastic handle with three-rivet design: For fatigue-free and safe working with the knife.