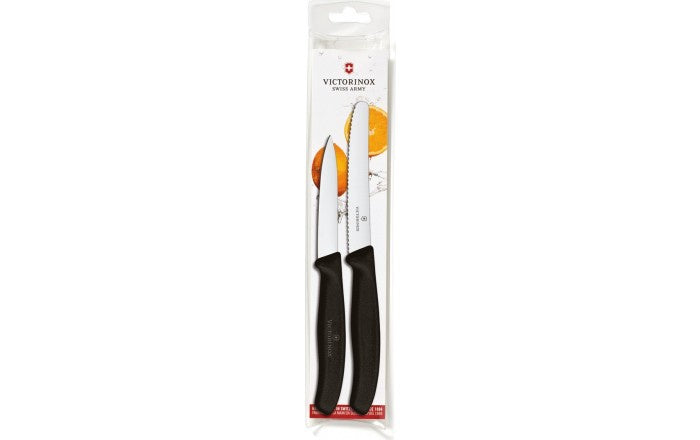 Victorinox Paring Knives Set of 2
Every kitchen task, from the minute to the mammoth, has been considered in the conception of the Swiss Classic collection of knives by Victorinox. These are lightweight, dishwasher-safe pieces that are 100% Swiss made and feature colorful handles. In a collection where functionality is combined with fun, we've also put together some of our most useful knife blocks and gift sets. There's nothing this collection doesn't cover.
Easily slice and dice ingredients for your favorite meals with this two piece Swiss knife set from Victorinox. Included in the set is a 4.5" serrated utility knife and a 3.25" paring knife. Made from stainless steel, the blades are durable and long lasting. The ergonomic fibrox handles provide a secure grip and are hygienic and slip resistant. Ideal for fruits vegetables and boneless meats, this knife set includes a manufacturer's limited lifetime warranty. Best of all, these knives are both dishwasher safe which makes cleanup a breeze.
Ergonomic handles
Dishwasher safe
Lifetime Warranty